In an era where environmental concerns and design aesthetics take centre stage, the construction industry has been looking for new solutions that are eco-friendly, durable, and stylish. Enter fibre cement building solutions, an innovative approach that promises to redefine the way we build for the future. Fibre cement holds the key to addressing the growing demand for sustainable and visually appealing structures. With its exceptional versatility, durability, and eco-friendly attributes, fibre cement is spearheading a revolution in modern construction. But what exactly makes it the future of sustainable and stylish construction? This article delves deep into the world of our top-quality fibre cement solutions, highlighting their remarkable advantages, versatile applications, and the exciting potential they offer.
Composition and Manufacturing Process of Fibre Cement
Fibre cement is a composite material made from a mixture of cement, sand, cellulose fibres, and water. The cellulose fibres come from a variety of sources, including wood pulp, paper, or cotton. The mixture is formed into sheets or panels using various methods, including compression and extrusion. The panels are then cured in a high-pressure autoclave. Fibre cement products are known for their durability, fire resistance, and weather resistance.
Advantages of Fibre Cement Building Solutions
Fibre cement brings forth a multitude of benefits that set it apart from traditional construction materials:
Durability: Fibre cement products are known for their strength and durability. They are resistant to water, pests, rot, and decay, and can withstand extreme weather conditions, including wind & rain. They also offer excellent resistance to fire and do not burn or contribute to the spread of flames. Their composition ensures longevity and reduced maintenance costs.
Sustainability: Made from a blend of cement, cellulose fibres, sand & water, fibre cement is eco-friendly, as it requires fewer natural resources and emits fewer greenhouse gases compared to traditional materials. The products are also reusable & easily recyclable.
Versatility: From ceilings and walling to decorative elements, fibre cement provides you with ample creative freedom. They can be customized to match any architectural style, and are available in a variety of textures, colours, and finishes. They can also be cut and shaped to create unique design features and accents.
Low Maintenance: Thanks to its durability, fibre cement structures require minimal upkeep. They do not need to be painted or stained regularly and can be easily cleaned, translating to long-term cost savings.
Applications of Fibre Cement Building Solutions
Fibre cement building solutions are used in residential, commercial and industrial constructions for a variety of construction purposes, including ceilings, walling, cladding, flooring, and decorative accents.
Fibre Cement Ceilings:
The lightweight nature and fire-resistant properties of fibre cement make it an ideal choice for ceiling applications. Whether in interior or exterior areas, fibre cement ceilings offer a balance of functionality and aesthetic appeal. They prevent heat transfer from the rooftop, facilitate ventilation under the roof, as well as give the house a clean, neat finish that complements various designs.
Fibre Cement Walling:
Fibre cement's durability and moisture resistance make it a reliable option for walling and partitioning applications. It can withstand the elements and maintain its structural integrity over time. Fibre cement walls can be textured, painted, or finished to achieve the desired appearance, making them a versatile choice for both exterior and interior walls.
Fibre Cement Wall Cladding:
For a sleek and modern exterior, fibre cement wall cladding provides a stylish solution. It offers a clean and unique look while protecting the building from weather and environmental factors. The cladding can be customized with various colours and textures, adding visual interest and enhancing the overall aesthetic.
Fibre Cement Decorative Solutions:
Fibre cement's versatility shines in decorative applications, where it is available in various textures and can be cut into various shapes. From intricate decorative panels to unique architectural elements, fibre cement adds a touch of artistry to buildings. Its ability to replicate the appearance of other materials allows for creative design options that enhance the overall look and feel of a space.
Fibre Cement Flooring & Decking:
Fibre cement's durability extends to flooring applications, especially in high-traffic areas. It can be used in both residential and commercial spaces to create durable and visually appealing floors and decks. Additionally, fibre cement flooring can contribute to better indoor air quality, as it is resistant to mould growth.
In outdoor spaces, fibre cement decking solutions provide an excellent alternative to traditional wood decks. They offer the same aesthetic appeal as wood, minus the maintenance challenges. Fibre cement decks are highly resistant to moisture, decay, and termites. They are also anti-slip making them a reliable choice for outdoor living areas.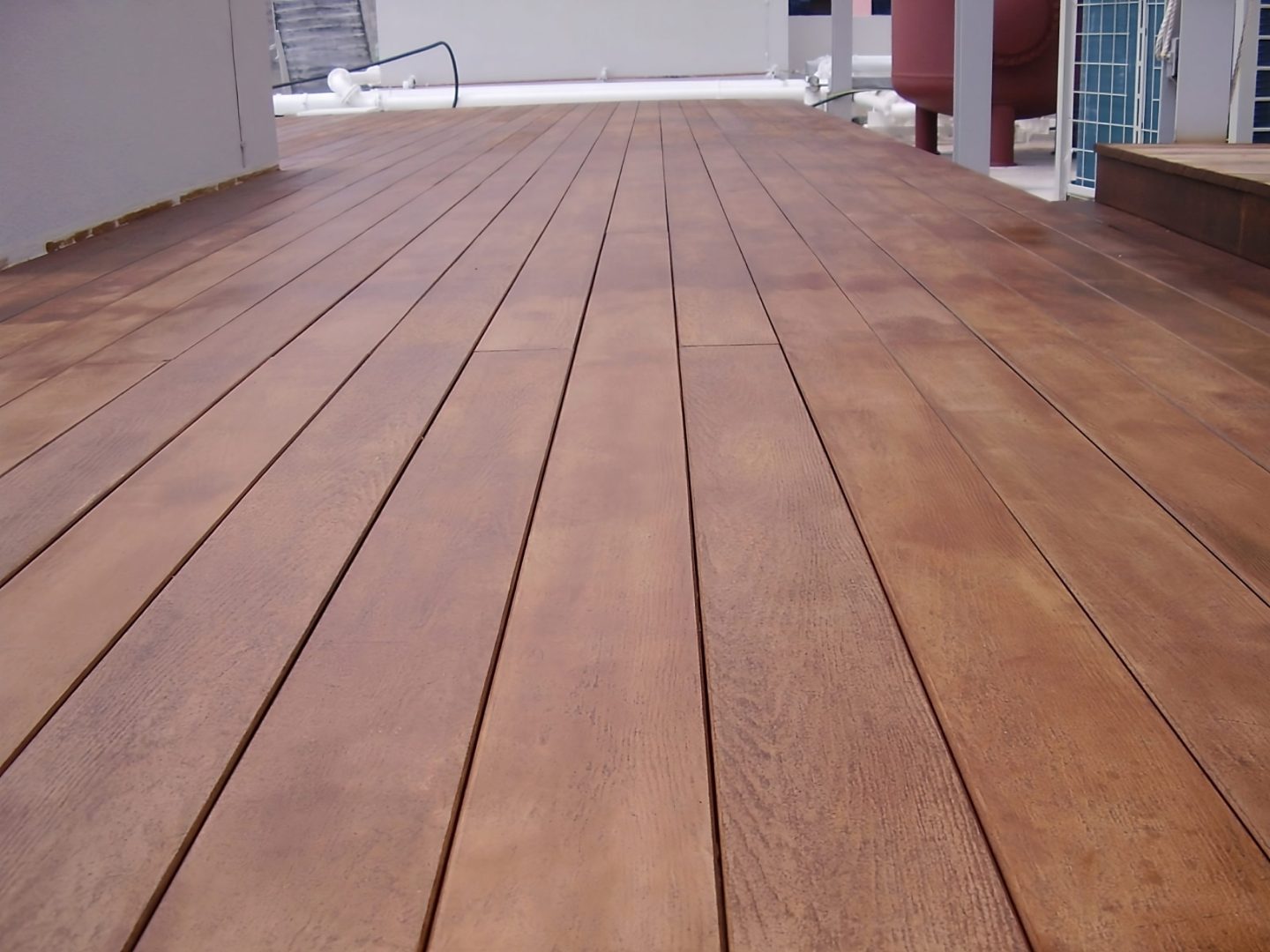 Comparison of Fibre Cement Building Products with Other Building Materials
1. Fibre Cement vs. Wood:
While wood exudes a timeless charm, fibre cement offers the advantage of being highly resistant to weather, fire, and pests. Unlike wood, which requires regular maintenance and is vulnerable to rot and decay, fibre cement maintains its integrity over time without sacrificing aesthetics. It also reduces deforestation and contributes to a greener environment, making it a sustainable alternative to wood.
2. Fibre Cement vs. Gypsum:
Gypsum is commonly used for interior ceilings and wall panels, but it lacks the durability and moisture resistance of fibre cement. Fibre cement surpasses gypsum in terms of strength, making it suitable for both interior and exterior applications. Additionally, fibre cement's fire-resistant properties and sustainability make it a preferred choice for a wide range of construction needs.
3. Fibre Cement vs. Plywood:
Plywood is a widely used construction material known for its versatility and strength. However, it can be susceptible to moisture and may deteriorate over time. Fibre cement offers comparable strength while being highly resistant to moisture, fire, and pests. It eliminates concerns about delamination and warping, ensuring that structures remain stable and long-lasting.
Maintenance of Fibre Cement Building Products
Cleaning Methods
Fibre cement building products can be cleaned using a variety of methods, including pressure washing and scrubbing with soap and water. It's important to avoid using abrasive cleaning products or tools, as these can damage the surface of the products.
Repairing Damaged Areas
If fibre cement building products become damaged, they can be repaired using a variety of methods, including patching and filling. It's important to use a repair material that is compatible with the fibre cement product when making repairs.
Painting and Recoating
Fibre cement building products can be painted or recoated to refresh their appearance or to match a new colour scheme. It's important to use a paint or coating that is compatible with the fibre cement product and to follow the manufacturer's instructions when painting or recoating.
Frequently Asked Questions About Fibre Cement
1. Are fibre cement building solutions suitable for all climates?
Yes, fibre cement's durability and resistance to weather extremes make it a reliable choice for a wide range of climates, from humid to arid.
2. Can fibre cement imitate the look of other materials?
Absolutely, fibre cement can mimic the appearance of wood, stone, and even metal, providing endless design possibilities.
3. Is fibre cement eco-friendly?
Yes, fibre cement's composition and production process result in a lower environmental footprint compared to traditional construction materials.
4. How does fibre cement compare to gypsum?
While both options have their merits, fibre cement generally offers better durability, water resistance and is less harmful to the environment making it a better choice overall.
5. Can fibre cement be used for exterior applications?
Certainly, fibre cement's versatility extends to exteriors, where it can be used for wall panels, eaves ceilings, wall cladding, floor decks and more.
6. What role does fibre cement play in energy-efficient construction?
Fibre cement's insulation properties and thermal resistance contribute to energy efficiency by helping maintain stable indoor temperatures.
Conclusion: Shaping a Greener and More Stylish Future
In the world of construction, the future belongs to those who embrace sustainable practices without compromising on visual appeal. Fibre cement building solutions present this, offering a blend of durability, eco-friendliness, and design versatility. As we forge ahead, it's clear that fibre cement is not just a material; it's a catalyst for a brighter, greener, and more stylish tomorrow.